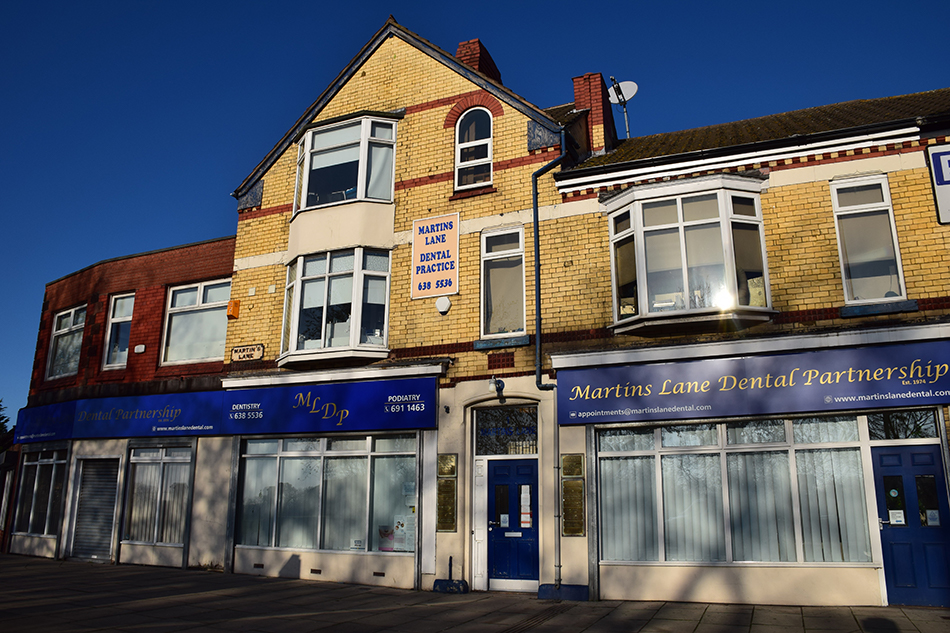 Welcome to Martins Lane Dental Partnership
A long-established family-owned Practice offering NHS and private dentistry to the local community.  We endeavour to provide a quality service in a modern and relaxed atmosphere.  Twelve modern air-conditioned surgeries enable us to provide excellence in every aspect of clinical care (5 surgeries have disabled access and facilities).  We also provide IV and gaseous sedation.  State-of-the-art diagnostic and sterilising equipment underpin our commitment to the highest standards of treatment.
**Please note, we are having a new phone system installed on Wednesday 11th January 2023 between 11.30am – 2pm, so we may not have full phone access during this time. IN CASES OF EXTREME EMERGENCIES SUCH AS TRAUMA OR BLEEDING PATIENTS OF THE PRACTICE CAN CALL 07860556650  Our website emails will still be available***
Unfortunately, we have had to close our waiting list for new NHS patients, we will re-open it as soon as we are able.  *Update Nov 22* We are now taking on children*
COVID-19 INFORMATION JULY 2021
PLEASE DO NOT COME TO THE PRACTICE IF YOU OR A MEMBER OF YOUR HOUSEHOLD HAVE SYMPTOMS OF CORONAVIRUS –
HIGH TEMPERATURE – feeling hot to touch on your chest or back, 
A NEW, CONTINUOUS COUGH – meaning coughing a lot for more than an hour, or 3 or more coughing episodes in 24 hours 
LOSS OR CHANGE TO YOUR SENSE OF SMELL OR TASTE – if you have noticed you cannot smell or taste anything, or things smell or taste different to normal.
Further information about coronavirus symptoms can be found here on the NHS website
UPDATE 28th October 2022 Since Covid we have had huge demands for dental treatment. Unfortunately, a few patients have wasted many hours of surgery time that could be used for other people who have a real need for a dentist. Therefore, we must now say, anyone who cancels at very short notice or misses an appointment, may not be able to rebook their appointments and may have to find another surgery for their treatment. Please, for the sake of everyone, KEEP your appointments. Do not make appointments you do not intend to keep. If you need to cancel, give us as much notice as possible so someone else can have the opportunity to see a dentist.
UPDATE 21st June 2022 We are still wearing masks and asking patient's to wear a face covering and wash/gel hands upon arrival and to arrive for appointments alone where possible.
UPDATE 24th February 2022 Following on from the PM statement on Monday, the guidance from the office of chief dental officer is that we will continue to wear masks, social distance and screen patients as we have been doing prior to attending.  This is because of infection and prevention control guidance that we are working from.
UPDATE 19th July 2021  Government's latest COVID-19 guidance states "Health and care settings will continue to maintain appropriate infection prevention and control processes".  When you come into the surgery for an appointment, please remember that social distancing remains in place in the dental practice and you will need to wear a face mask upon entering the practice. 
For further information on how we are a working and how to make an appointment please click here
Website last updated: 10th November 2022